Cycling tour grades of Morocco Biking Experts
Please carefully read about our tour grades and choose a most suitable trip according to your cycling experience and physical condition. Our cycling tour grade is a suggestion to understand about the difficulty of Morocco Biking Experts' tour itineraries.
In addition, a support vehicle will always stay close to the cycling group with drinking water. Cyclists will carry only daily cycling kits during cycling days and leave other luggage in our van. Moreover, you can stop cycling and go into the vehicle if you feel tired.
Our cycling tours have 3 cycling grades and some of our tours have mixed grades:
Easy – Usually short daily riding distance in low altitude and does not require advanced cycling skills or physical condition. 1 or 2 cycling days covering distance of over 50 km and average daily cycling of 30-50 km on dirt tracks or hard-packed surfaces and no serious climbing.

Moderate – Usually daily long riding distances at about average altitude, requires average cycling skills and physical condition. Cycling terrain will be hard-packed dirt tracks across undulating forest and steppe. Roads vary from being tarmacked to rocky in places with some short steep passes and more sustained climbs.

Demanding – Cycling daily long distances in up and down mountainous areas, large steep climbs, requires well cycling skills and good physical condition in some sections at high altitudes. Cycling terrain will be hard-packed dirt tracks, muddy sections, and remote areas.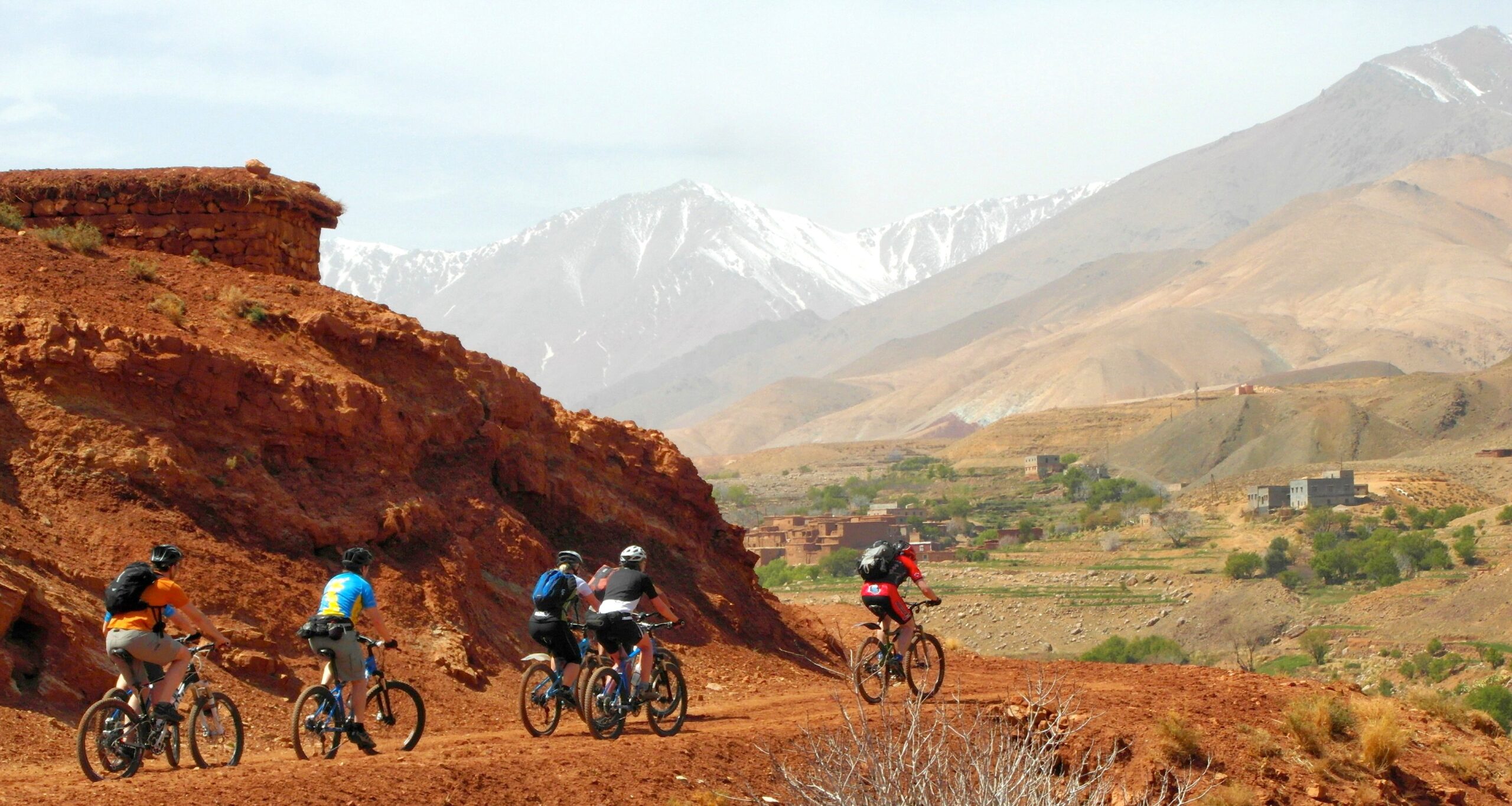 Guide to Morocco mountain biking holidays
If you are looking for the best MTB tour in Morocco you are in luck. Near to Marrakech is some of the most remarkable mountain biking terrain in North Africa.
The rugged Atlas Mountains to the northeast of Marrakesh are perfect for mountain biking. The sport has entrenched itself in the region and has become a popular day trip for action-oriented visitors to the city.
Directly south of Marrakesh, the Draa River Valley is a lush gateway to the magnificent Sahara Desert. Here, bike trails take you through storybook desert oases and unforgettable palm groves.
Thousands of miles of single track crisscross hillsides, Berber valleys and plateaus in the area. There are also fat-biking tours in the Sahara Desert and various electric mountain bike adventures to be had.
Whether you are looking for day trips or a multi day bike adventure there is plenty of uplift options to avoid serious uphill pedalling. And if you base yourself in the city you can explore timeless Marrakesh when not in the saddle.

Explore your interests at your own speed
Your entire holiday is designed around your requirements!