The Best Tours and Things to Do in Imlil in 2023
Explore best activities and tours in Imlil valley :
Imlil is a small village in the high Atlas Mountains. It is 1,800 metres above sea level. It is really layback village perfect to discover the high Atlas and do some hiking. Imlil is also the base to summit Mount Toubkal, the highest mountain of Morocco.
The Imlil Valley is a popular launching point for those wishing to trek through the High Atlas Mountains, specifically Jbel Toubkal. From just about any point in the valley, lie any number of breathtaking views. While the village of Imlil is the most well-known, many other, lesser known, Berber villages are scattered throughout the area.  Some are perched precariously on the sides of mountains, others are tucked away in valleys. Whether you'd like to escape the heat of the lower regions during summer, spend a day trekking, or visit a Berber family the Imlil Valley is an amazing destination.
Discover the best sights in Imlil valley with some popular mountain bike or e-bike tours & day trek, So if want to find Imlil activity holidays then start by looking at our selection below :
Imlil circle day bike tour 3H
Half day Imlil ebike tour
Full day ebike tour from Imlil
Full day biking tour from Imlil
Imlil enduro day biking tour
Imlil to Ouirgane day e-bike tour
Azzaden valley e-mtb day tour
Asni & Kik Plateau mtb tour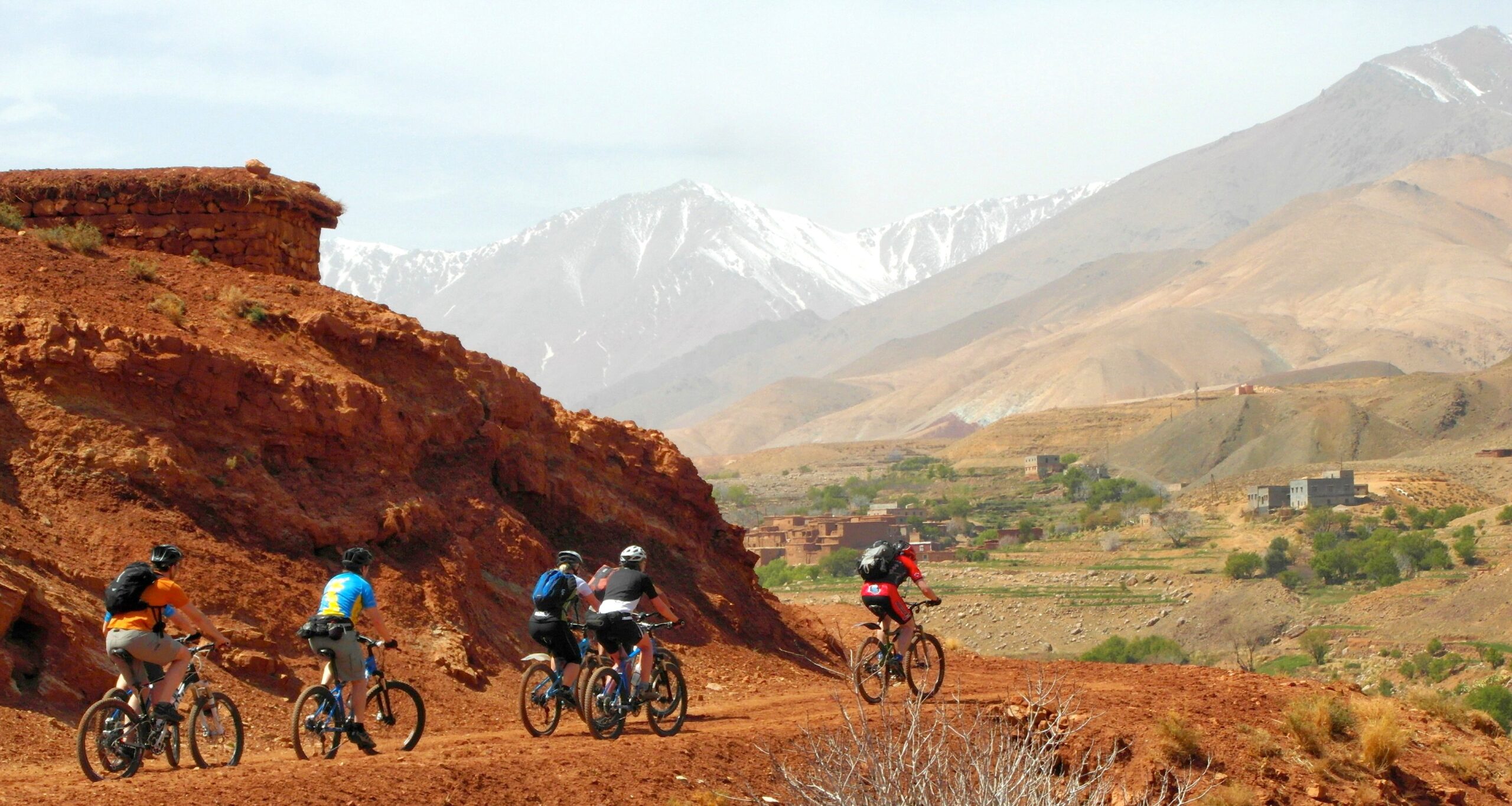 Guide to Morocco mountain biking holidays
If you are looking for the best MTB tour in Morocco you are in luck. Near to Marrakech is some of the most remarkable mountain biking terrain in North Africa.
The rugged Atlas Mountains to the northeast of Marrakesh are perfect for mountain biking. The sport has entrenched itself in the region and has become a popular day trip for action-oriented visitors to the city.
Directly south of Marrakesh, the Draa River Valley is a lush gateway to the magnificent Sahara Desert. Here, bike trails take you through storybook desert oases and unforgettable palm groves.
Thousands of miles of single track crisscross hillsides, Berber valleys and plateaus in the area. There are also fat-biking tours in the Sahara Desert and various electric mountain bike adventures to be had.
Whether you are looking for day trips or a multi day bike adventure there is plenty of uplift options to avoid serious uphill pedalling. And if you base yourself in the city you can explore timeless Marrakesh when not in the saddle.

Explore your interests at your own speed
Your entire holiday is designed around your requirements!